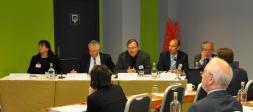 The EFFACE project held a conference on "Smart Enforcement: How to Target Environmental Law Enforcement Efforts in Times of Crisis" on 3 November 2014 in Brussels. The half day event featured two sessions.
The Theoretical and Empirical Case for Smart Enforcement
How to Make Enforcement against Environmental Crime Smarter – Practical Perspectives
Speakers at the conference included European Union officials, senior university researchers and legal experts in the field of environmental crime. Policy-makers, police officers, prosecutors, NGO representatives and academics working on the issue were among the participants.
The conference was organised in co-operation with the Flemish High Enforcement Council for the Environment. 
A short report of the conference is available at the website of the International Network for Environmental Enforcement and Compliance (INECE).
An overview of the focus points of the conference can be found in an article on the EJOLT website.