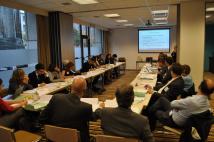 On 6 November 2014 in Brussels, a workshop was held as part of the EU-funded research project "European Union Action to Fight Environmental Crime" (EFFACE, www.efface.eu). The Workshop included a broad variety of participants included academics, practitioners and representatives of NGOs and European and national public bodies.
The main objective of the workshop was to discuss and evaluate the strengths and weaknesses of the Environmental Liability Directive (Directive 2004/35/EC, ELD) and related instruments. Other instruments, for instance were the ELD and the Environmental Crime Directive (Directive 2008/99/CE, ECD). The links between provisions on environmental liability and provisions on environmental crime at national level were discussed along with lessons learnt and experiences; comparative advantages and disadvantages of different instruments.
The Workshops Report on Environmental Liability and Environmental Crime listed below is a publication that summarises the presentations as well as the most important discussions developed during the workshop.
Presentations of the workshop are also available from the EFFACE website.