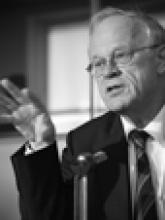 Wouter J. Veening is co-founder and Chairman / President of the Institute for Environmental. His work focuses on the policy and legal responses to security risks emanating from environmental degradation in key regions of the world, amongst them preventing and/or halting deforestation in Amazonia and South-East Asia. ...
After working as policy adviser at the Dutch Ministry of the Environment (1971-1984), Mr. Veening became director at the Netherlands Committee for IUCN/World Conservation Union (1984-2002), where he dealt with the environmental policies of multilateral finance and donor institutions. He has also served as Deputy Chairman of the IUCN Commission on Environmental, Economic and Social Policy (CEESP).
Wouter's EFFACE assignment includes leading the research and writing on the IES case studies and involvement in the development of the EFFACE policy options and recommendations. 
Partner Organisation:
Institute for Environmental Security